About our Penn Quarter location
After establishing comforting retreats in Dupont Circle and Navy Yard, we extended our premium facial treatments to Penn Quarter, situated in the vibrant heart of Washington D.C. Our Penn Quarter facial bar sits in the 'facial' center of DC, just a stone's throw away from the literal City Center. It serves as a dynamic junction linking diverse neighborhoods from Mount Vernon Triangle to Chinatown to East End. In line with our commitment to delivering quality skincare right to your doorstep, we've positioned ourselves in places where you live, work, play, or even where you might take a short stroll to a thrilling Caps game.
MON - FRI

8 AM – 9 PM

SAT

9 AM – 7 PM

SUN

10 AM – 6 PM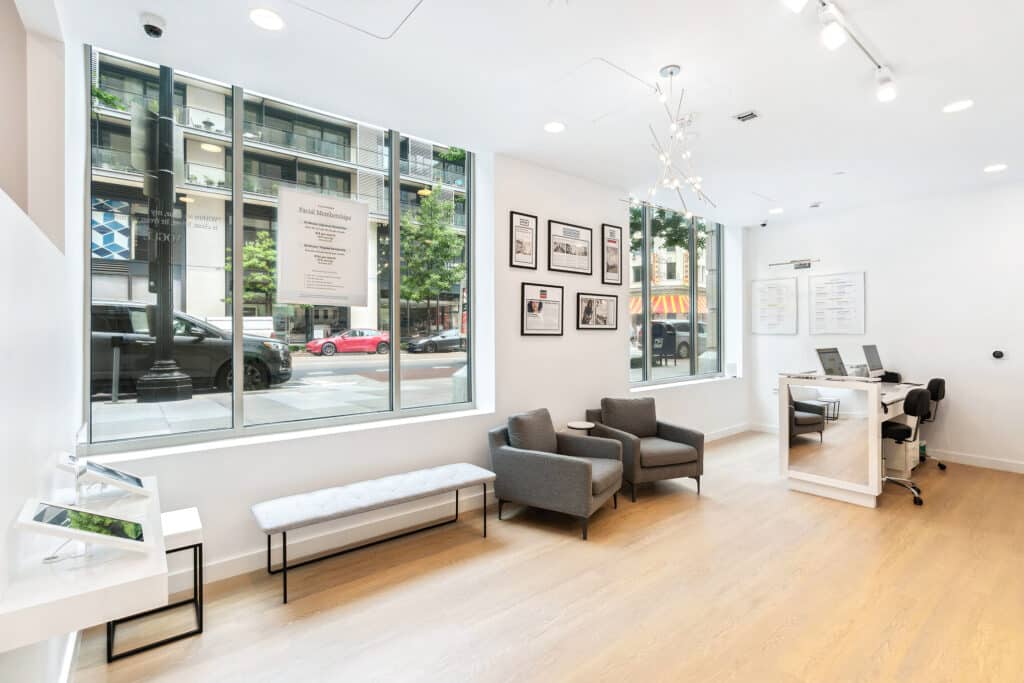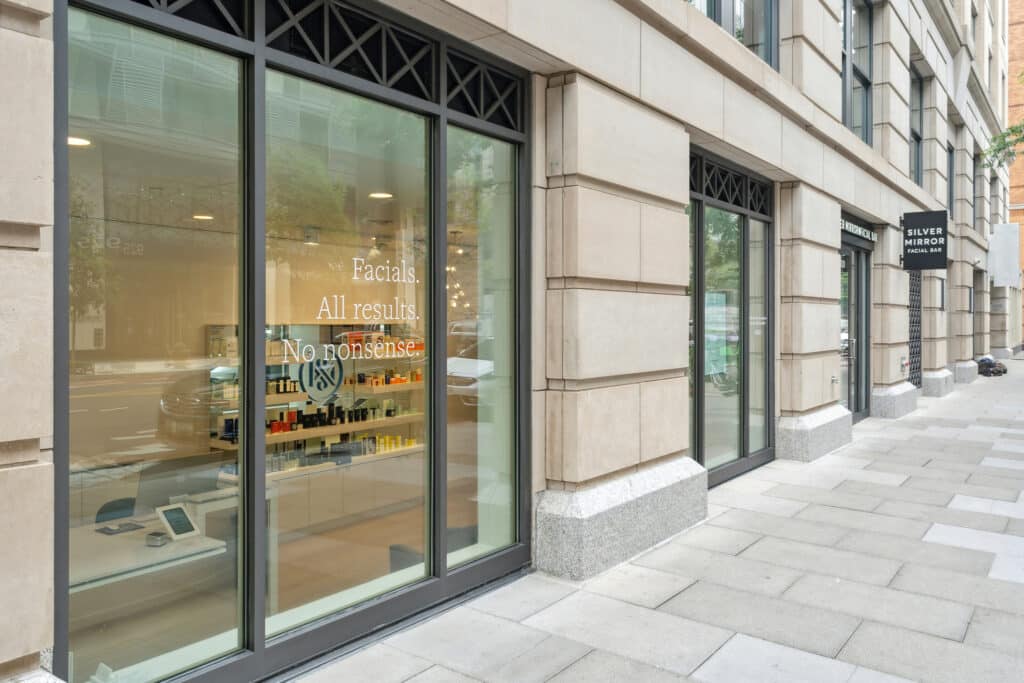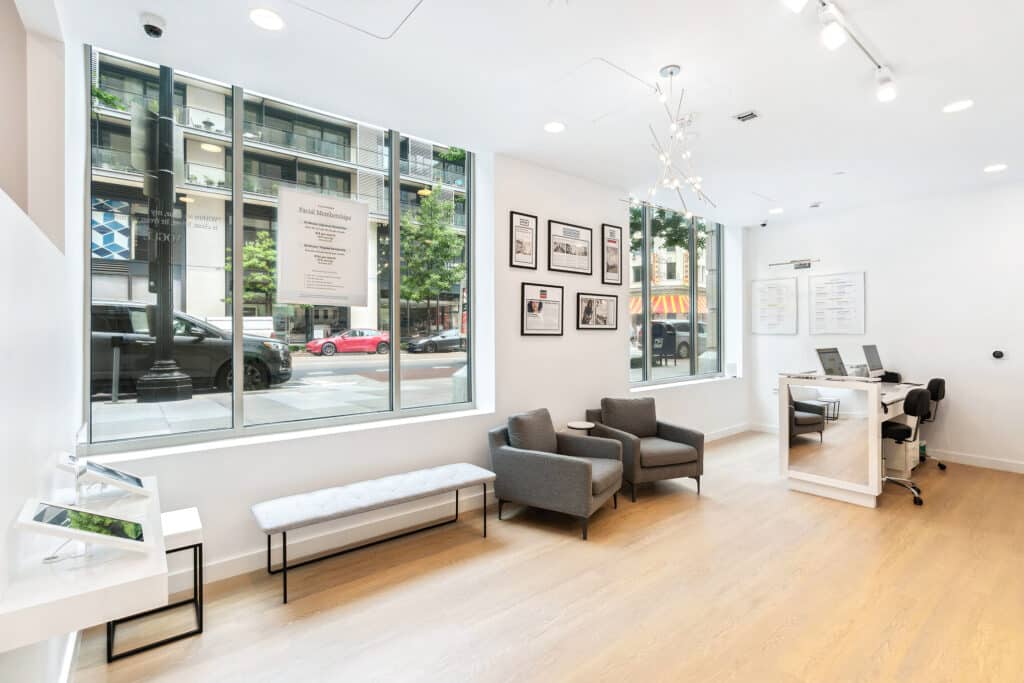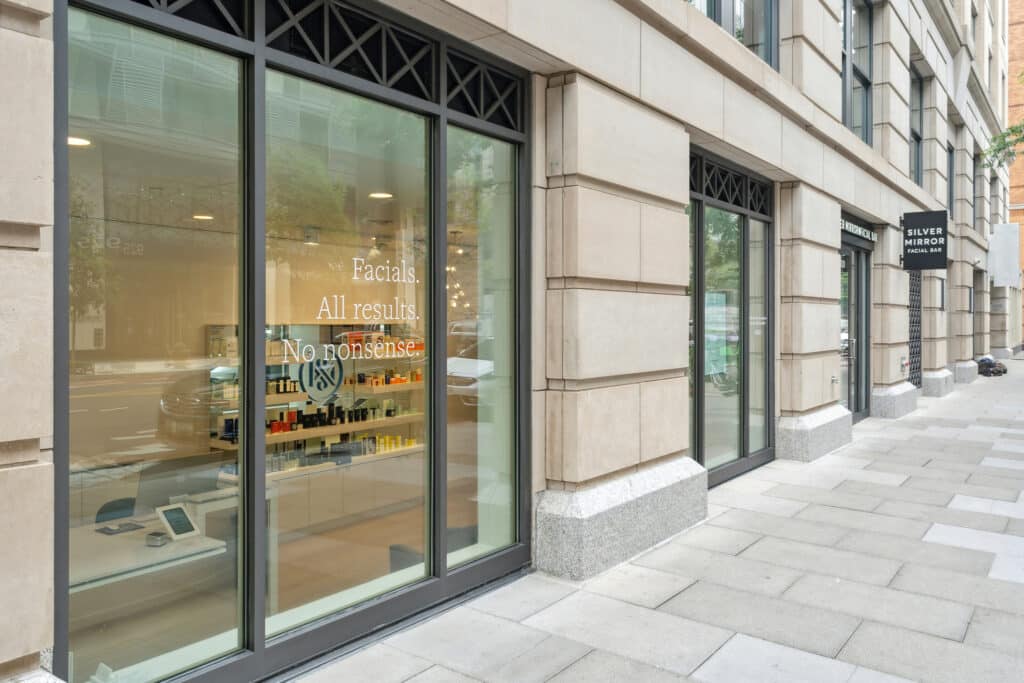 Experience Radiant Skin at Penn Quarter
No matter what your skin type or complexion, Silver Mirror Penn Quarter has a facial that will unlock your radiance.
We know every Washingtonian is unique. That's why at Silver Mirror, we don't take a one-size-fits-all solution to skincare.
We have a team of highly-trained estheticians who provide personalized evaluations and recommendations based on your skincare concerns and goals.
Our estheticians' recommendations will help you develop your at-home regimen to complement your in-spa treatments.
These dermatologist-approved products are formulated with the highest-quality ingredients to help improve the health and appearance of your skin long after your facial.
From gentle cleansers and hydrating serums to powerful anti-aging treatments and sun protection, we have everything you need to keep your skin looking its best. We've carefully curated a selection of high-quality skincare products from top brands like Dr. Dennis Gross, Sanitas, Supergoop!, CosRx, Skinceuticals, and more.
Silver Mirror Expands Spa-Level Skin Care to Penn Quarter
Silver Mirror is dedicated to serving the vibrant neighborhood of Penn Quarter. Whether you're seeking anti-aging treatments, brightening and hydration, or solutions for acne, dry, cracked skin, sensitive skin, and more, we have you covered. We go beyond traditional facials, by effectively targeting a variety of the most common skin challenges.
Come enjoy a 30 or 50-minute treatment session at Silver Mirror's Northwest D.C. location in one of our serene, private treatment stations complete with luxurious beds, and immerse yourself in a world of relaxation as our skilled professionals work their magic.
Silver Mirror Penn Quarter is the skincare destination you've been searching for. Book your appointment today and unlock your skin's true potential.
Book a Facial
Getting to Silver Mirror 
Penn Quarter
Looking for our Penn Quarter location on foot?
Here's how to find us.
Silver Mirror Penn Quarter is the prime facial destination! We're easy to reach via public transport, by car, and on foot.
Our Penn Quarter facial spa is located on H St NW across from the Plaza at CityCenter.
Driving from I-695, Take I-695 W to the 12th St Expressway. Then, take the Main Ave exit from I-395 S. Continue onto 12th St NW and make a right onto H St NW. You'll find Silver Mirror on your right.
What else is nearby?

About the Neighborhood
3 min walk from CityCenter DC shopping mall
3 min walk from Metro Center
5 min walk from Equinox Anthem Row on K Street
5 min walk from OrangeTheory Fitness
13 min walk from Varnish Lane on K St in Mt. Vernon Triangle
Giving Back

At Silver Mirror, we are just as passionate about positive change in the world as we are about skincare.
national Partner

National Pediatric Cancer Foundation

This season we are proud to offer our Seasonal Hydrating facial that will be directing a portion of proceeds to the National Pediatric Cancer Foundation.

Local Partner

Becky's Fund Domestic Violence

Silver Mirror is dedicated to supporting the fight against domestic violence and will donate a portion of the proceeds from our Brightening Facial to Becky's Fund, an organization that works to end domestic violence through education, advocacy and service.